Olly is the Creative Director of Birmingham based design agency adaptable; a disruptive digital studio specialising in immersive customer experiences.
Olly and his team specialise in all areas of design but Olly is particularly gifted at web design, and that is what this article will focus on today.
Olly has been riding the trends of design for as long as I have been aware of his work. He's been on my radar for a few years now and he always seems to be a trend setter, or at least a quick adaptor of new, upcoming design styles. Olly's slick, spacious and minimal approach is infectious and his style hasn't gone unnoticed. He's worked with some massive brands including National Express, Monday Mo.Co and Dr Martins.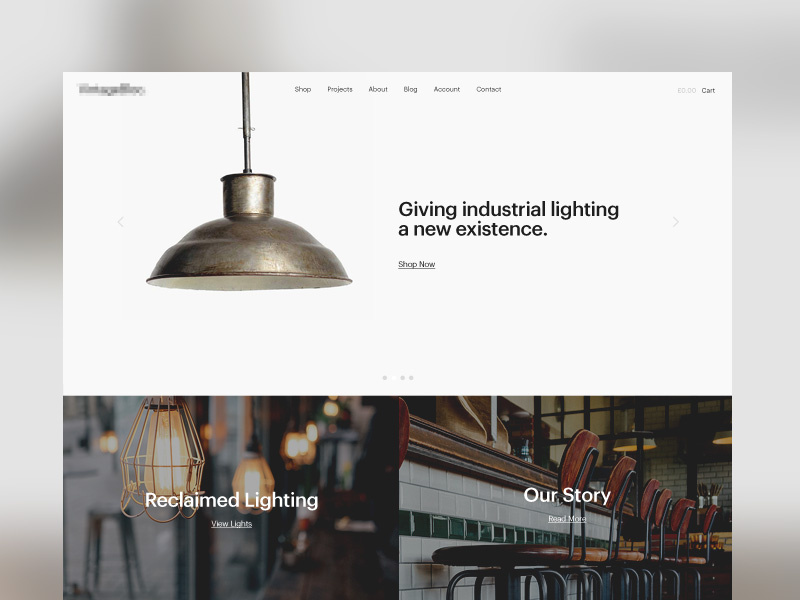 In my opinion, this is Olly's signature style; minimal and spacious, the perfect example of a 'less-is-more' approach. See how Olly allows white space to hold the imagery and guide the viewers eye over only the most necessary information. There is no confusion with this style of design and the user journey is practically self explanatory.
This sort of style lends itself perfectly to shopping websites, where the product should be the main focus, and the design should merely be a tool to highlight and emphasise the product's key features. This design does that perfectly. The combination of white space, a structured, hierarchy of typography and carefully placed buttons and drop-downs create a seamless user journey.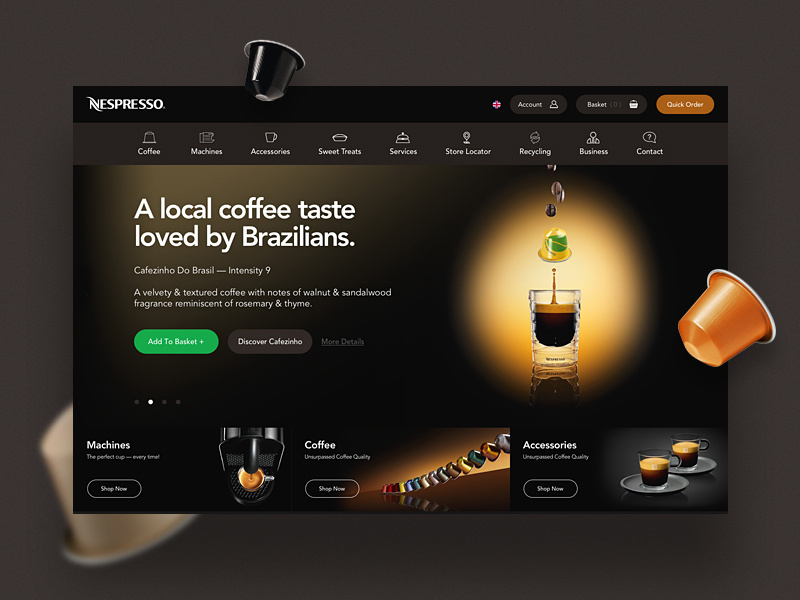 This is a fairly contrasting design in comparison to the two previous designs. The majority of the page layout is dominated by strong, imagery, and the typography is positioned around this to guide the user. This is a great example of commercial design; taking a product and creating a theme with it, and not the other way around. This looks like a Nespresso site from a mile off; you can immediately see the similarities between the brand and packaging and this digital interpretation. The colour palette chosen, and the subtle shading and gradients, perfectly reflect the Nespresso products. The main navigation bar is simple and easy to understand, with minimal icons representing each page. Although the main image carousel dominates the page, the following call-to-actions are clear and attractive, guiding the user through to other areas of the site.
This design shows great technique in incorporating the client's colour palette into the design concept, and introducing bold, striking hero imagery to work alongside it. This, coupled with the soft, rounded UI creates a really modern and visually engaging design. It's a nice highbred/middle ground between the two previous styles of design.
Here's a great example of a clear, concise user journey for a commercial client. Coach travel isn't the most exciting subject matter, but Olly has combined visual engaging imagery with clear call-to-actions and subtle drop shadows to guide the user through this page for The National Express. His use of modern, sans serif typography works well with the flat colour and subtle, rounded corners.
Again, this website concept is a perfect example of modern, spacious design which, in my opinion, lends itself perfectly to E-Commerce websites; allowing the products to be the clear focus while guiding the user through carefully placed imagery and call-to-actions.
Olly is continually producing quality work, and leading the British design industry within the digital field, so make sure to check out more of his work on his Instagram or his Dribbble.